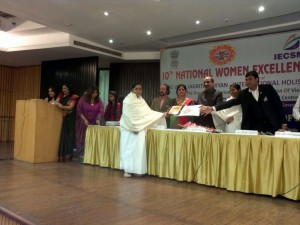 This year 3 Brahmakumaris sisters received Women Excellence Award on 25th November 2017  among 51 awardees from all over India.
​Union ​Agriculture Minister​ (MOS)​ Smt. Krishna Raj was The chief guest for the program. The women excellence award is given by " Yog confederation of India". This organisation is having branches in all over the world in 60 countries. Its international Head quarters is in Italy.
Names of the Brahmakumari sisters 1) Preeti behn from Faridabad Centre 2) Uma behn from Gandhwani centre, Indore zone 3) Preeti behn from Greater Noida.
​