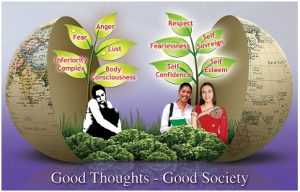 There are five major issues relating to women i.e. Morality, Health, Empowerment, Education & Security. The Women Wing adopted these five points for an overall development of women in our society and these were the major aspects to be tackled by the wing in the national perspective:
To initiate a moral and spiritual awakening.
To impart knowledge of Health Rules and norms.
To awaken them about their role in establishing peace and happiness in the family and society.
To bring out their hidden powers and talent by encouraging women education.
To initiate a self-effort on their part to identify their spiritual self and to realize it.
It has been a consistent effort of the Women Wing to arouse sufficient awakening amongst women that they treat themselves as 'soul' and realise the qualities and powers of the soul. They should manifest all these qualities of the soul in their real life conduct. They must realize that as soul one is above the distinction of gender as a soul is neither a male nor a female. It is only after birth that one becomes a man or woman and is given name and identical social role and thus his/her latent powers become express.
A woman today is challenged to draw upon traditional strengths while continuing to redefine her position in a rapidly changing society.
Can women stop taking refuge in the familiar security of subservience and passivity, and rise above centuries of oppression to attain new heights?
Spiritual empowerment holds the answer. It is a unique method of restoring the balance between the sexes. Such empowerment begins with an understanding of the spirit or soul. The soul's innate qualities include the strengths of both the female and the male. Spiritual empowerment puts a person in touch with these inner strengths and enables a harmonious balance of the best of the masculine and feminine in the personality. This is the first step toward gender equality.
The Women's Wing is committed to offering spiritual empowerment to women across the world. At the same time it endeavours to raise men's awareness to support this objective as well as to attend to their own spiritual development.
The Women's Wing, in addition to organising conferences, symposia, exhibitions, Rajyoga camps etc., publishes literature and conducts surveys on women's issues.