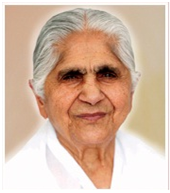 Rajyogini Dadi Janki
Chief of Brahma Kumaris
A mine of wisdom and compassion, Dadi Janki seems to live beyond the time-space barrier as she tirelessly travels from one country to the other, offering insights and inspiration to millions of people. She is one of the ten wisdom keepers of the world nominated by the World Parliament of Religions, and also the President of Janki Foundation for health care.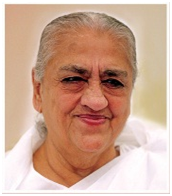 Rajyogini Dadi Hirdaya Mohini
Add. Chief of Brahma Kumaris
Also lovingly known as Dadi Gulzar, she joined Brahma Kumaris at the tender age of eight. She offers simple practical tips to guide spiritual seekers all over the world and spreads lightness and love with her presence and words. From an early age she had divine visions of a future world that is characterised by peace, prosperity and harmony.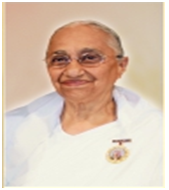 Rajyogini Dadi Ratan Mohini
Joint Chief of Brahma Kumaris
Dadi Ratan Mohini wears several administrative 'hats' in addition to being Joint Chief of the Brahma Kumaris. She is also the Director of the Personnel Department of the Madhuban campuses at the University's headquarters in Mount Abu , Chairperson of the Youth Wing of the Raja Yoga Education and Research Foundation, Director of Teacher Training Programmes in India , and Zonal Head of Brahma Kumaris services in the state of Rajasthan.
BK Chakradhari
National  Coordinator,
Women's Wing
BK Chakradhari studied History and Political Science up to Degree level of Punjab University. Just then, her keen interest in Meditation, Moral Values and Spiritual Wisdom brought her into contact withBrahma Kumaris Ishwariya Vishwa Vidyalaya. She had deep spiritual experirnces  through the practice of Rajyoga Meditation. Since her total dedication in the year 1962, she worked in the Ishwariya Vishwa Vidyalaya in various capacities. She has been the incharge of a well known Centre of Rajyoga and Value Education in Delhi
She is a versatile speaker on the subject of inner transformation and does counseling in solving inner conflicts. She has also been organizing fairs, festivals, conferences, workshops, etc to promote the inculcation of values and the practice of meditation
She is the All-India coordinator of Women Wing of the foundation which has a very large number of votaries and beneficiaries. She has received many medals, diplomas, certificates for her noble services.

BK Dr. Savita
HQ Coordinator,
Women's Wing
Dr. Savita completed her MBBS in the year 1989 from Rajasthan University. Initially, she practised in various cities such as Udaipur, Kota, Dungarpur, Indore and Mount Abu. In 1991, she joined Global Hospital & Research Centre, Mount Abu and gave her honorary services till 2000. From 2001 till now she has been giving her honorary services in Brahma Kumaris Ishwariya Vishwa Vidyalyaís Headquarters.
She has been deeply interested in spirituality since childhood and came in contact with Brahma Kumaris during 1975. She has travelled widely in various parts of India to educate people about healthy lifestyle & Meditation. She also coordinated national level programmes of Women Wing of Brahma Kumaris. In the year 2001, which was declared as Year of Womenís Empowerment by Indian Govt., she participated in "All India Women Spiritual Empowerment Campaign" organized by Brahma Kumaris for upliftment of women.
She is a faculty member of Brahma Kumaris Academy for a Better World and delivers lectures on Mind Management, Stress Management, Healthy & Happy Living, Meditation as Medicine, The Art & Science of Positive Thinking, Self Empowerment, Leadership Qualities, Anger Management, etc.